Hello Friday. My, how the months have flew by ... it's the last Friday of November, 29 more days until Christmas, 35 more days until 2010, and another edition of Letters of Intent from
Foursons
blog. And if I get this typed up fast enough, I'll be the 1st letter since most of you readers are either still sleeping off your turkey hangovers or are getting bailed out of jail for getting into fist fights with other black friday shoppers at the Wal Mart ... (and I'm sorry, but I'm in a potty mouth kinda mood today ... you'll see ....)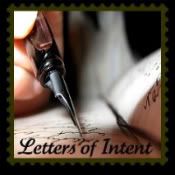 Dear T-Bone ....

Thanks for the fun last night. It's been a long time since I was ever so desired ... was very very happy to learn that schnoo schnoo was not a thing of our past (I win!) Good thing I shaved (You win!) And how proud are you of me that I only hit snooze 3 times this morning and not 8? I told you I was capable of change! Actually, I think my exact words were "fuck off!" But I told you ... don't mess with me in the mornings, I'll change when I'm good n ready.

Dear lady with the platinum blonde mullet with the black roots ....

FAIL!

Dear man in elevator carrying a murse (?) ....

FAIL!

Dear Sydnerella ....

You rock! Not only are you a great kid (minus the 3 days that you spew pure evil because of your monthly visitor), you are showing so much happiness since we moved, you are a beautiful girl, and now are on the honour roll? I win!

Dear High Heels .....

Are you fucking kidding me? What corner of hell did you crawl out of? You do not expect me to wear you around the party tomorrow do you? Not gonna happen. I win!

Dear body shaper (aka girdle) ....

I love you.

Dear growing body ....

You thought you'd get me down this time didn't ya? Nice try. And I wont even have to squish you into that pair of shiny pants that fit back in August to prove it. I bought a dress. That's right ... a dress. That covers your rolly ass belly without the scarves that I've been wearing almost daily. I win!

Dear Silly Sally ....

I am wearing those flats to my party, as much as it's probably killing you ... when you have this much weight to carry on tiny little pegs, you'll know ... and I tend to over-drink at my Christmas parties ... why I would I just make it that much easier on myself to fall down? Or look drunker? I win!