Sweet Sweet Friday. A cold day again here in Calgary. Waiting for the snow. Great excuse for not getting the pumpkins off my back deck and into the garbage yet again .. sigh. I've been linking up over at
Foursons
blog on Fridays for Letters of Intent. Head over there to read more letters when you're done here ... or if you are just sick of looking at my muffin top ... ok, that's not really my muffin top, but it could be my muffin top twin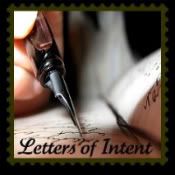 Dear Muffin Top,

Peek a boo, I see you! And so does every other damn person in the world. You can go away anytime now, I shouldn't have to force you to leave (by eating better or doing some sit ups or something equally crazy). Just leave ... bu-bye now.

Dear stretchy jeans,

I heart you. Although you don't cover above mentioned muffin top, at least you are comfortable around the ol spare tire. I have a question though ... Why do you shrink in length as muffin top increases in size? The length of my legs should have nothing to do with the width of my muffin. Just sayin ...

Dear Good Life Fitness,

Look at you! Making all that money off me without having to do any work? I must be your favorite type of member? Actually, you're probably laughing at me too, behind my big arse. Admit it. You released me of my contract and I STILL pay you. You heart me don't you? Don't worry, I'm on my way! Not like ... soon. But eventually. When I'm ready ... I'll be there. As soon as the New Years Resolution crowd gives up and goes home, I'll fill in.

Dear oven baked french fries,

For better or worse. In sickness and in health. Til death do us part. Don't you worry your tastey little self, I'll be there til the end. We're a team and we're in this together.

Dear Blog Readers,

If you want to know how this happened to me (because it DID
"happen"
to me) and if you have a little more time to kill, read the story of
how muffin tops start.