Today is a good day. The best Friday of the entire year ... Daylight savings starts at my company, which means 1/2 Fridays from now until October .. WOOT! That and the fact that I'm wearing jeans, that I swear are a little bit BIGGER makes it a great day actually. It's treat day, which is usually good because it means free breakfast ... not so much today because it's MY treat day. So not free for me. Friday is also great because it's Letters of Intent day over at
Foursons
blog. I've been a bad participant lately, actually I've been a bad blogger lately, but I'm on my crackberry now more than the PC and I tried to blog on that and it aint happenin. I've also been working out in my spare time and car shopping. So ... there's my excuses. Click on the pic below to read more letters or to add your own, and keep reading for my little letters of today. The best Friday of the entire year ...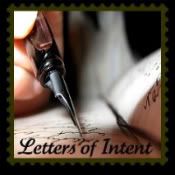 Dear company I work for,
It took a long time to like you. After the hostile take over of my last favorite bestest company ever, I hated you. Wanted you to crash n burn. But over time and after pulling my head out of my ass, I grew to love you. And it's a strong love. I don't know if I ever told you, but I was offered a job about 8 months ago making buckets upon buckets of cash, and I turned it down. For you! And what did you do a few weeks back to thank me? Gave me a crazy good bunus! See, you rub my back, I'll rub yours. And 1/2 Fridays is the cream cheese icing on the strawberry chip cake.
With love,
your loyal JV accountant
***************
Dear 4 pounds,
So long sucka! Don't come back ... I win, you lose. I mean I guess I lose too ... score!
Love,
A Canadian that will be in Texas in July not just a crazy bitch, but a skinny bitch
***************
Dear used car salesmen,
You are slimey. You know you are. And I am not stupid. Good luck with me.
Signed,
A girl that will get the fabulous car I deserve for less than you want to sell it for
***************
Dear Calgary & area weather,
WTF!? Seriously, wtf was that last night? You cold bitch. Yes, I've lived here my whole life. Yes, I've seen it snow every month of the year. So No, I'm not surprised really. But an ice storm? Really? And why take the power? You are so lucky it came back on before Survivor or you would have had two very pissed off girls on your hands. One who is just starting to PMS.
Signed,
Fuck you!
***************
Dear Sydnerella,
We went through it bad last month and I wont do it again. You will be grounded if you think your PMS gives you a "treat mom like shit" pass for the next couple of days. I did not appreciate being blamed for the power outtage last night or the attitude because I have a crack addiction that kept me occupied and you just have a regular cell phone that was almost dead (neener neener). I am flattered, though, that you think I am so powerful that I could stop the snow and sleet with my bare hands and pull the sun through the clouds. That says a lot for my parenting really. Thanks.
Signed,
A mother who will not take shit from a 12 yr old who thinks the world should stop right before her monthly visitor